← Retour à toutes les annonces
Description
Gymdesk provides modern, online management software to gyms, martial arts schools, yoga studios and other fitness and wellness businesses. In an industry dominated by outdated and cumbersome products, we provide the superior user experience people expect in 2023.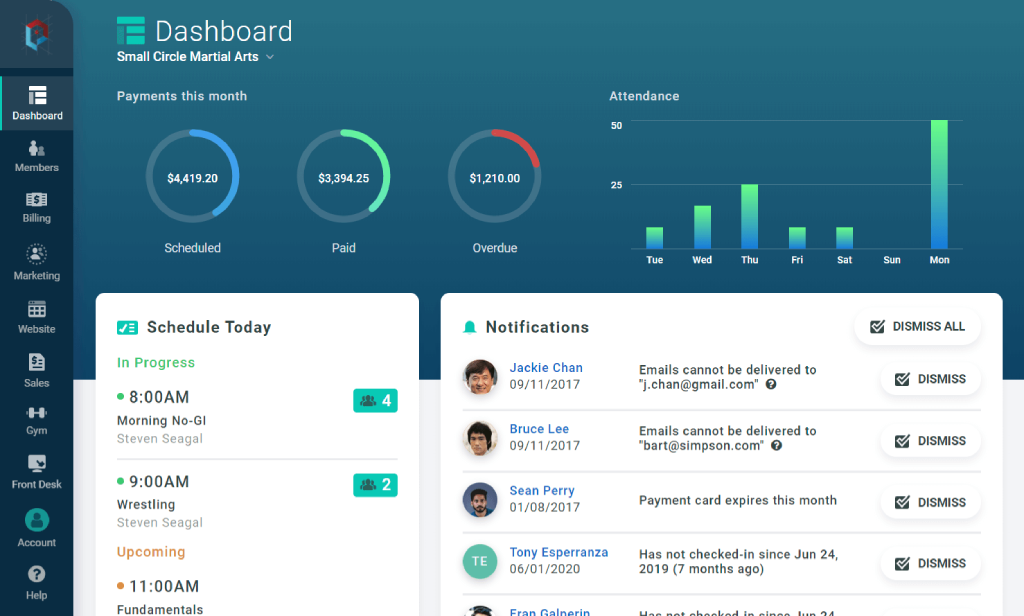 We are looking for a PHP developer with mobile / Flutter development experience, to join our team and help us continue to improve our web and mobile apps.
You should love managing complexity in elegant ways, and creating beautiful user interfaces that hide that complexity in the backend. The product is mature, but is constantly evolving / adapting based on new use-cases and user feedback.
About the role:
You will be joining a small but effective team, as our 5th dev team member. You'll receive training on the stack, platform and flows within the software. Gym management might not sound complicated, however there is a lot of complexity hidden behind our shiny UI, as we account for many different use-case that you likely have never considered as part of running a gym. Regardless of your past experience, we believe this will be a worthy challenge.
About the team:
Gymdesk is a small and effective team (currently 12 people). We don't have office politics and try to minimize the amount of interruptions you will have to deal with. We are a remote team that communicates mostly through slack and video chats as needed. We use Github to manage our repos, tickets and sprints.
Requirements:
3+ years of demonstrated professional experience with the PHP stack (language, frameworks, open-source libraries, web servers)

A growth mindset. You want to challenge yourself to grow as a developer and individual contributor and take on new responsibilities and acquire new skills.

Solid experience with web technologies including HTML5, CSS, vanilla Javascript and jQuery

1+ years of mobile development experience, especially cross-platform development with Flutter

Good understanding of user experience and flows

Excellent verbal and written communication skills.

Availability during 9am-5pm in CST (give or take +/- 2 hours). Please only apply if you are able to work during those hours

And most importantly, a natural ability to get stuff done
Compensation:
This is a full-time, 40-hour a week role

Annual salary of $80k-$110k depending on skills, seniority and location

Health and dental reimbursement plan (pick your own insurance) for US based employees

20 PTO days a year, in additional to national holidays

Home office improvement budget



If you're excited about creating software that looks beautiful on the front end and elegant on the back end, give us a shot. We'll do our best to make the interview experience fast, enjoyable, and mentally stimulating.
If we don't get a chance to speak with you, thank you so much for your interest, and hopefully there will be a better opportunity down the line.
Please mention the word **SILENT** and tag RMTUxLjgwLjE0My4yMDY= when applying to show you read the job post completely (#RMTUxLjgwLjE0My4yMDY=). This is a beta feature to avoid spam applicants. Companies can search these words to find applicants that read this and see they're human.
Poster une annonce 100% télétravail
Vous recrutez en télétravail?
Ciblez des milliers de travailleurs remote en postant sur le 1er site d'annonces full-remote en France!